Top Five Things to Look for When Hiring a Heating, Ventilation, and Air Conditioning Contractor (HVAC)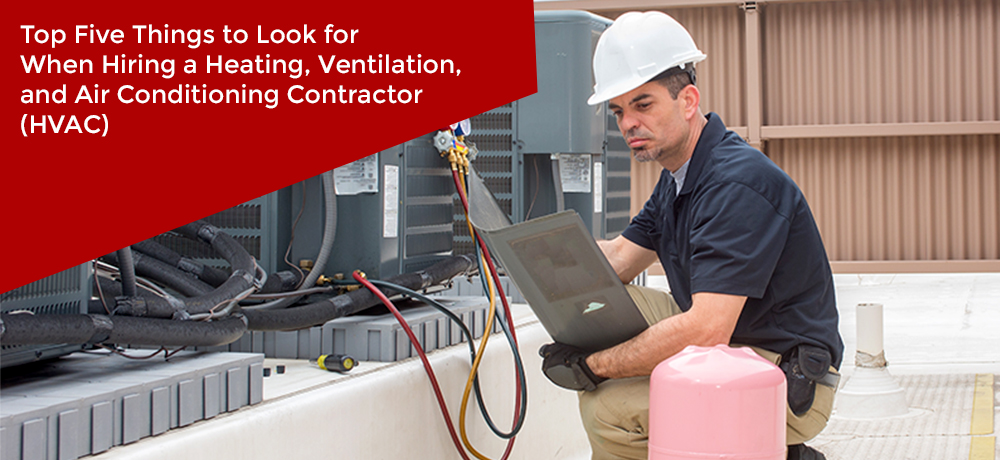 Hiring the services of a skilled HVAC Contractor is beneficial when tending to your heating, cooling and ventilation needs. The contractor has the expertise to manage your installations from potential problems and saves you time without compromising on safety.
HVAC Contractors install and repair heating, cooling, and ventilation systems. They are specialists in installing, repairing, and replacing air condition systems, garage and infrared heaters, natural and power vent hot water tanks, tankless installations, secondary furnace and HRV HVAC systems. They also provide HVAC permits, gas permits, new home duct system design, basement development duct design, the addition of hot or cold air to finished basements, bathroom fan vents, kitchen fan vents, dryer vents, humidifier installation, and repair. HVAC contractors are experienced in home air filtration – charcoal, UV, electrostatic, etc., fresh air systems – HRV's, thermostats and CO detectors, wireless, Wi-Fi, communicating thermostats, condensate pumps, and small commercial duct systems.
Here is a list of the top five things to look for when hiring a heating, ventilation, and air conditioning contractor (HVAC).
Do your research: Many large companies focus primarily on advertising and bulk sales. As a result, a commission-based salesperson with limited knowledge on the installation practices of the HVAC trade may be the first of several people to enter your home. Smaller, local companies are better suited to reduce the number of individuals in the overall process. A meeting with the installers beforehand is always recommended to avoid big surprises that weren't detected by the salesperson. Moreover, because of bulk sales, the big names in the industry are often booking more work than they can handle, so they contract the surplus installations to third and fourth party installers (subcontractors), so make sure you know who you are hiring.
Trade specific specialty: It's important to check trade qualifications before committing to a contractor. The contractor should be qualified to carry out the work that he or she is performing. Plumbers are not qualified to install ventilation systems, electricians are not qualified to install air conditioning systems, and carpenters are not qualified to install gas lines. HVAC is a highly specialized trade that involves sizing heating and cooling equipment in conjunction with modifying or designing the duct system for the equipment to work efficiently.
Price point: You get what you pay for. If you're only willing to pay bottom dollar for the job, the contractor is likely cutting corners or is desperate for work. Neither of these are good traits of a good contractor. Getting multiple quotes is always recommended, but choose carefully as you may buy many future problems with your new system if you opt for the bottom rung of the ladder. Furthermore, the opposite is also true. The most expensive quotes are not necessarily the best either. Larger companies have a lot of overhead. If you've heard their ads on the radio, television, received flyers and seen their YouTube videos, you've probably come to the conclusion that it all costs a lot of money. Well, that money comes from people like you. Get your quotes and choose wisely when working with your HVAC contractor.
Contracts: A good contract is in place to protect the homeowner and the contractor to ensure that the work is done on a budget, and on time. It's essential that you read any contract thoroughly before signing it. Good contractors in the HVAC industry only ask for a small deposit up front or none at all, and won't accept any other funds until the project is inspected and approved by the city, or entirely completed if no inspection is necessary. Make sure to take a close look at the fine print as well, since many larger HVAC companies have stringent, costly terms to maintain your warranty with many conditions that need to be met.
Comfort and communication: Any interpersonal or business relationship alike is built upon a strong foundation of communication. If you are not comfortable with your contractor, you are less likely to approach them if problems arise with your HVAC system in the future. A warranty is only useful if you would gladly welcome your HVAC technician back into your home. We suggest meeting your installer before signing a contract; it should be like calling a trusted friend for a favor, instead of becoming a onerously daunting task.
If you're looking for an HVAC Contractor in Calgary, Alberta contact The Prince of Fresh Air. With over a decade of experience in the industry, The Prince of Fresh Air specializes in heating, ventilation and air conditioning (HVAC), in residential and commercial settings. The company aims to provide world-class HVAC services along with superior customer service.
For more information, please visit www.freshaircalgary.com.
---
---